Cranfield Aerospace Solutions Ltd (CAeS) were given an incredible opportunity to experience a flight in Cranfield University's unique National Flying Laboratory Centre (NFLC) flying classroom yesterday afternoon.
CAeS were responsible for the complete modification of a standard Saab 340B aircraft to the new flying classroom/laboratory configuration which included the installation of additional instrumentation, onboard cameras, seat back displays, variable ballast systems, Wi-Fi throughout the cabin, local power supplies and networking throughout the cabin for student computers' down to new, cabin seat upholstery.
All the modification design work was undertaken by CAeS engineers and successfully delivered during COVID lock down, with no direct access to the aircraft which was located in Sweden. The design team worked closely with the installation team at SAAB to find new and innovative ways to put CAeS engineers virtually on to the aircraft for surveys and installation support. The project also had the added complication in that it transitioned BREXIT and a change of regulator from EASA to UK CAA.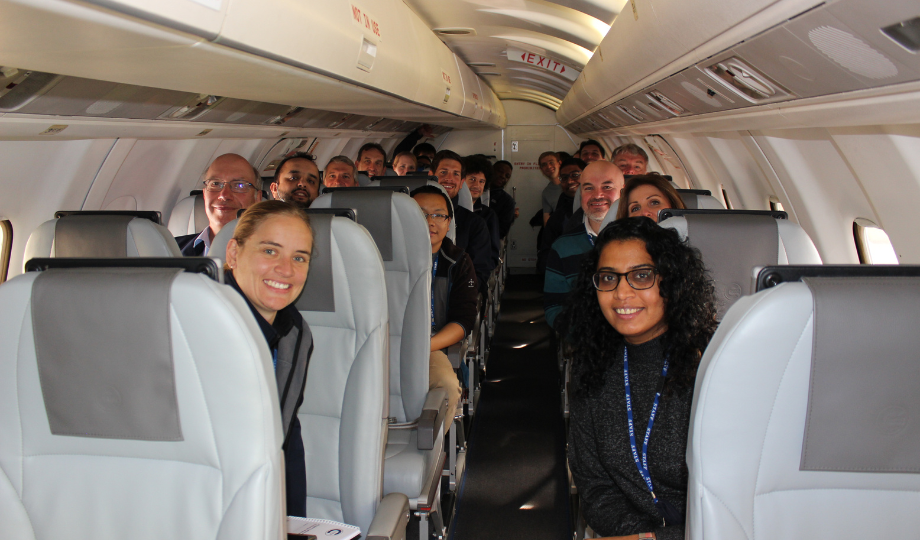 Onboard the facility that provides aerospace engineering students from Cranfield and universities from all over the world with invaluable flight test experience, the group of CAeS employees were demonstrated several different flight modes including short period, phugoid, dutch roll characteristics and constant g turns.
Each seat is fitted with a screen with various modes showing camera views, maps and data. As each manoeuvre was performed, the passengers we were talked through the data being collected.
One of the passengers was CAeS Business Development Manager, Sam Lambert:
"After a comprehensive pre-flight briefing, we boarded the aircraft and took off from Cranfield. Once we'd climbed to a safe altitude, we began our tests, which were various, covering areas such as drag and manoeuvre stability. It was incredibly interesting to experience exercises where you could feel the aircraft flight systems kick in to correct or assist the pilots and then to look at and understand the subsequent data collected."
A great afternoon for CAeS employees, and an experience they will never forget!