Tomorrow's Engineers Week shines a spotlight on engineering, engineering careers and engineering professionals.
At Cranfield Aerospace Solutions we've been highlighting engineers from different disciplines to show how interesting aerospace engineering can be.
Look at our previous stories: Christine Holmes – Principal Mechanical Design Engineer and Alison Eve – Senior Airworthiness and Certification Engineer.
Today we're highlighting Thomas Pratt, our Senior Air Vehicle Design Engineer who has been with us since the summer.
Background
Having always been fascinated by airplanes and flight, it's no wonder he pursued a career in aerospace engineering. Tom was always "wanting to know more about why aircraft are designed the way they are and what influences the decisions to make certain design choices."
He has a PhD in Aerodynamic Design from the University of Sheffield, an MSc in Aerodynamics and Aerostructures from the University of Sheffield, and a BSc in Aerospace Engineering from Kingston University in London.
Before taking on his role at CAeS, Tom worked at Heart Aerospace in Sweden for two years as their Head of Flight Sciences. Tom says: "During that time I was instrumental in the design of their ES-19 battery-electric commuter aircraft and played a big role in their marketing campaign."
CAeS career
Now at Cranfield Aerospace, Tom's role is to design aircraft on a conceptual level and perform studies to check that certain aircraft modifications will be safe and effective.
"I use aerodynamics and flight physics to calculate how the aircraft will behave whilst in use. For example, how will it respond to control inputs from the pilot?"
In addition, he also calculates what the loads on aircraft structures will be whilst undergoing certain maneuvers such as takeoff and landing. This allows mechanical designers to design a structure which will be strong and safe for the lifetime of the aircraft.
Tom has also lead on developing new aircraft renders for our hydrogen-fuel powered conversion of the Britten-Norman Islander aircraft. You can see Tom's great work on the renders below!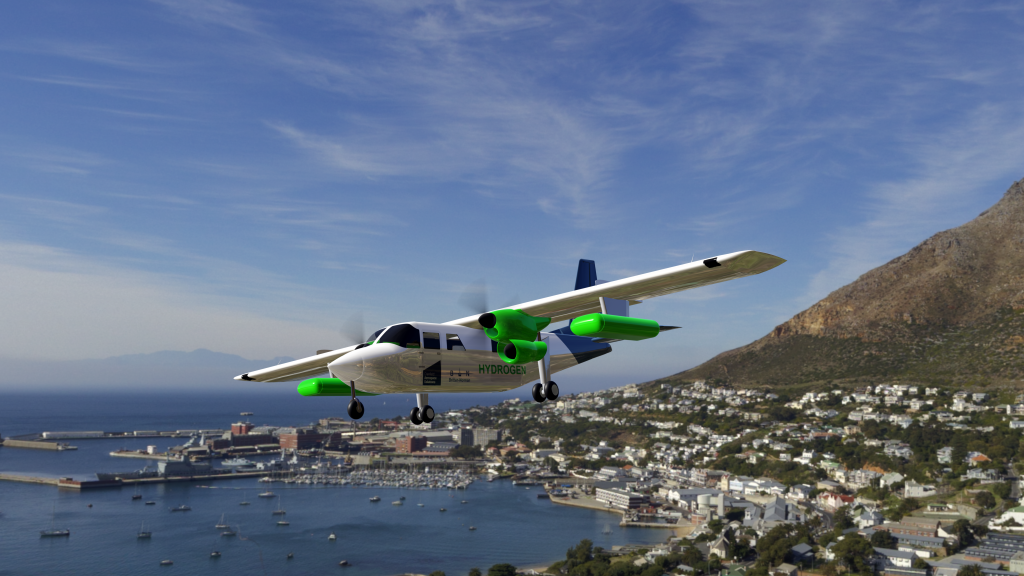 Why work at CAeS?
"Working for CAeS is rewarding because we are contributing to the global effort to design transportation systems which contribute to reduced greenhouse gas emissions. The work is interesting for many reasons; firstly, because designing any aircraft is an interesting design challenge. Secondly, integrating a new propulsion system which has only been investigated in a limited number of previous studies and never certified for commercial flight presents a rare and unique design challenge."
Advice for Tomorrow's Engineers
Tom's biggest piece of advice is to get involved in engineering and STEM projects:
"Try to get involved in a good number of engineering or STEM projects (if you can't find some then start one of your own!). Don't be afraid of 'failing'; every failure is a chance to learn more – either about engineering or about yourself!
"Whether you leave a project thinking 'I've just found my calling' or 'I've identified an area that doesn't interest me', you are one step closer to progressing your career into an area which invigorates and excites you.
"Be open to opportunities as they arise – you never know where an interesting project might pop up and benefit from your input, so be prepared to grab opportunities with both hands!"
If you have any questions about careers in engineering email Thoughts@cranfieldaerospace.com.
In addition, visit our careers page to see our current engineering vacancies.