Cranfield Aerospace Solutions (CAeS) were among an impressive array of strategic partners exhibiting at easyJet's roadmap to net-zero launch event today after partnering with them to achieve their ambition of zero emissions by 2050.
Companies like CAeS are a vital part of easyJet's road to net-zero – something easyJet recognizes and amplifies through giving opportunities like today to network, gain exposure and ultimately accelerate us on our journey to develop the world's first zero emissions, regulatory certified, commercially viable, Hydrogen aircraft.
The plan will see the airline reach net-zero through a series of elements, with the ultimate ambition to be flying on zero carbon emission hydrogen-powered aircraft. easyJet is already working with partners across the industry, including Airbus and Rolls-Royce on several dedicated projects to accelerate the development of zero carbon emission aircraft technology.
We were able to showcase the fuel cell cooling technology developed in partnership with Reaction Engines at the event and explain the benefits of their revolutionary thermal management technology.
The Reaction Engines heat exchanger technology delivers an elegant, efficient, light and low-drag solution to handle over 600kW of rejected heat.
"We are thrilled to be involved in such an innovative project. It is immensely exciting that Reaction Engines' ground-breaking technologies are being applied to unlock net-zero solutions in hard-to-decarbonise sectors such as aviation, and in recognition of this to be a part of the launch of the ambitious easyJet net-zero roadmap.

"We look forward to continuing to work with Cranfield Aerospace Solutions and seeing what more can be achieved as Project Fresson develops."

Kathryn Evans, Aerospace Sector Lead at Reaction Engines.
CAeS Business Development Manager, Mark Kelk says:
"The key thing about partnering with Reaction Engines is using space age technology and applying them to future aerospace solutions."
Find out more about Reaction Engines here.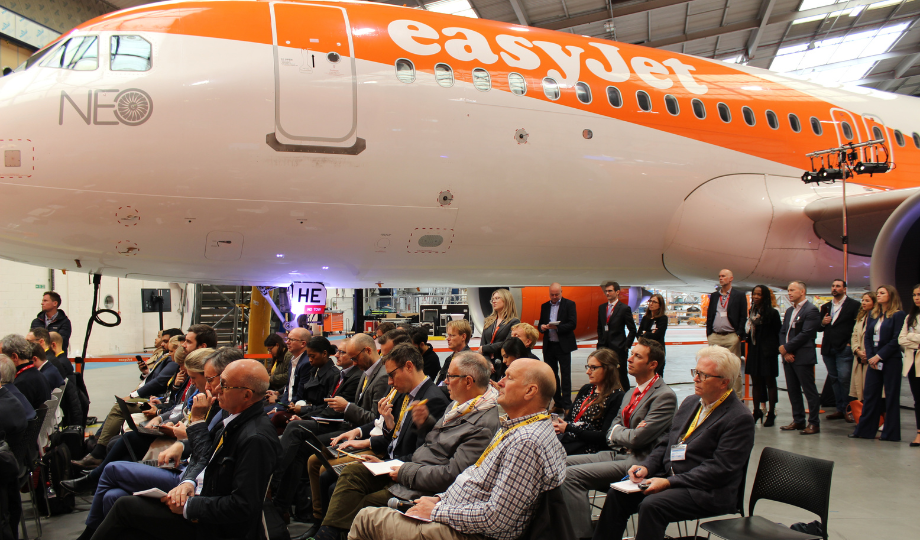 More about easyJet's announcement
easyJet has published its roadmap outlining how it can achieve net-zero carbon emissions by 2050. This follows the airline's commitment to the UN-backed Race to Zero last year. It is the most ambitious airline roadmap to-date due to its focus on new technology. The roadmap sets out that through the adoption of a suite of measures including zero carbon emission technology, once available, the airline would be able to reduce its carbon emissions per passenger, per kilometre by 78% by 2050 (vs 2019), with residual emissions addressed by carbon removal technology taking the airline to net-zero. easyJet's ultimate ambition is to achieve zero carbon emission flying across its entire fleet.